I posted this on LinkedIn this weekend: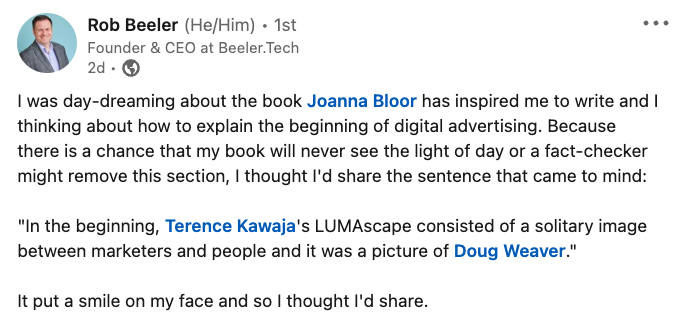 No, the book is still in my head and not written down yet, so you will still have to wait on that front. I'm sharing the post because it comes from a place of gratitude. From DC to our ability to produce events like Edinburgh and Navigator, to our recent podcasts, to re-thinking the website and even to evolving Beeler.Tech itself, we couldn't be busier but I couldn't be more thankful. I didn't want to wait until Thanksgiving to say it.
Base Camp Edinburgh

Tom Bowman will join us in Edinburgh, 1-4 October, for Base Camp. Here's why he's excited about the event: We, as publishers, rarely take this much time away from our day jobs to work on broader industry issues togetherThe agenda is adaptable and not driven by sponsors The event drives tangible publisher outcomes, not marketing messages

Chris Kenna will join us for Base Camp following a productive discussion at our last Navigator event in New York City. Chris also shared his take on why Base Camp excites him and what he's looking forward to accomplishing while there – touting that the event is the place to ask questions that need to be asked and to fix stuff, rather than just keep talking about it. Our events create unique opportunities to spark conversations that carry on well beyond the end of the conference. We're thrilled to have Tom and Chris participating in this year's can't-miss program.

Think you should join? Raise your hand now!


NEW – Beeler.Cast Episode 303 with Tina Iannacchino

On this episode of Beeler.Cast, Rob talks with Tina Iannacchino, US Senior Publisher Director at Seedtag. They cover topics from Barbie to block lists, AI to DC, and even solving the world's problems. Listen to this episode on the streaming platform of your choice: Listen Here!

We Have Blocklists All Wrong – by Rob Beeler

My goal was to kill off keyword block lists. Turns out I can't – but I can work to make them better. Here is my interactive article (in other words, feel free to contribute your ideas).


Career opportunities: Browsi is looking for an Account Executive to help build and develop a global sales pipeline across a portfolio of direct clients and agencies in the digital media industry. They will also work closely with internal teams to maximize sales opportunities, advocate for clients, renew business and share knowledge across the organization. This job is located in Ramat Gan, Tel Aviv District, Israel. Please click here for more information.

Mediavine is seeking an experienced Support Manager to join its growing Support & Customer Success department. The Support Manager is responsible for building, growing, and motivating Mediavine's support team. The ideal candidate has a strong passion for customer support, previous experience leading a team and comes from a strong background in managing teams that support multiple customer segments. Please click here for more information.

Freestar has openings around the globe. Freestar is a fully remote company. Freestar is dedicated to building a diverse and inclusive workforce, so even if you don't meet every single requirement of the job, they encourage you to apply! They're always looking for problem solvers who go above and beyond and have a "We Not Me" attitude. Even if you don't end up being a match for the role you applied for, they may have a different role that would be the perfect fit! They look forward to connecting to see if Freestar is the place for you. Please click here for more information. Click here to see our full list of job openings

Job Seekers:Looking for your next opportunity? We can help.

Our free Job Seeker Program helps employers and employees find the perfect match. We'll feature you anonymously in our newsletter and on social media. Employers, reach out if you would like an intro to any of our job seekers. MediaMath has a list of folks that are open to work. Click here to see

Featured Job Seeker #27"I am looking for a role as a programmatic trader and/or any entry-level AdOps roles to learn first, get the skills, and flourish.. Continue Reading"
Thank you for subscribing. This newsletter is a labor of love and all of us at Team.Beeler appreciates the time and attention you give to it. Tell us how to make it better. If somebody forwarded this newsletter to you, you can subscribe here.

Beeler (and team) out.